1997 Proceedings


1997 Photos

















---
Photo Album of the
Stereoscopic Displays and Applications VIII (1997)
Conference
---
The Dinner
For the past few years we have organised an informal dinner to allow all authors and attendees to socialise in a more relaxed atmosphere. This year we again sampled the delicacies of a Chinese Restaurant in downtown San Jose.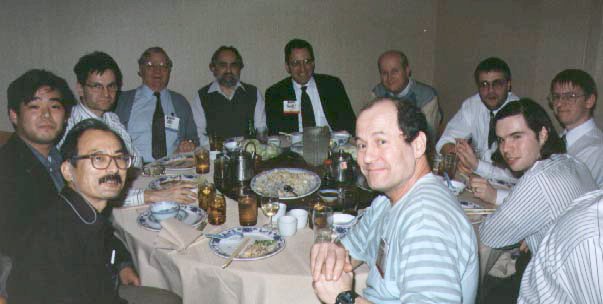 Pictured (clockwise from left) are:

Shojiro Nagata (Japan 3D Forum/Intervision, Japan) (conference committee),
Man Bae Kim (Samsung, Korea),
?
Lowell Noble (QD Technology),
Michael Weissman (Perspective Systems) (conference committee),
William Hopewell (FutureVision),
Phil Harman (Xenotech Research, Australia),
Cees van Berkel (Philips Research Labs),
Neil Dodgson (Cambridge University),
?
Michael Starks (3DTV Corp.)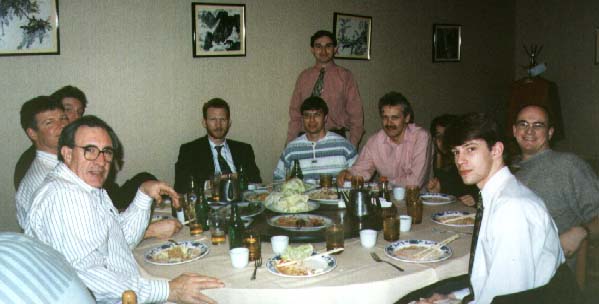 Pictured (clockwise from front left) are:

John Merritt (Interactive Technologies) (conference co-chair),
Craig Adkins (d3p),
John Doffing (Virtual i-O),
Carlton Finlay (Virtual i-O),
Mathius Hammer (Cavok Displays, Germany),
(standing) Andrew Woods (Curtin University, Australia) (conference committee),
Roger Hubbold (University of Manchester, UK),
?
?
Mathew Foreman (De Montfort University, UK).

Sorry to those people whose names I can't remember. If you know a name for a face which isn't listed, please drop me a line.

All photographs &copy 1997 Andrew Woods.

---
[Home] [1997: Review, Contents, Preface, Photos: Conference, Demonstrations, Dinner] [Committee]
[ 2022, 2021, 2020, 2019, 2018, 2017, 2016, 2015, 2014, 2013, 2012, 2011, 2010, 2009, 2008, 2007, 2006, 2005, 2004, 2003, 2002, 2001, 2000, 1999, 1998, 1997, 1996 ]
---

---
Maintained by: Andrew Woods
Revised: May 7, 1997.