2003 Proceedings





2003 Photos

















---
Photo Album of the
Stereoscopic Displays and Applications XIV (2003) Conference
---
The Conference

This page provides snapshots of a few moments at the 2003 Stereoscopic Displays and Applications conference.
Keynote
This year's keynote presentation was given by Emeritus Professor Ian Howard of the Centre for Vision Research at York University, Canada. Professor Howard's presentation was titled "Understanding stereoscopic vision". More information about Professor Howards presentation is available in the conference proceedings introduction.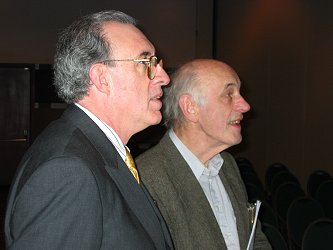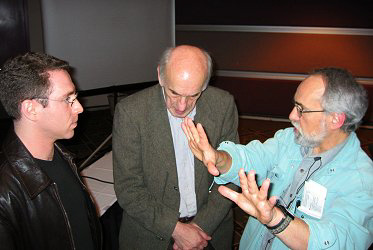 Pictured here are (left photograph: left to right) John Merritt and Ian Howard whilst setting up for Professor Howard's presentation, and (right photograph: left to right) Jason Goodman, Ian Howard, and Mike Weissman talking after Professor Howard's presentation.


This panorama was taken during Professor Howard's presentation. Almost all of Professor Howard's presentation slides were stereoscopic - hence the audience donned the polarised 3D glasses.
Discussion Forum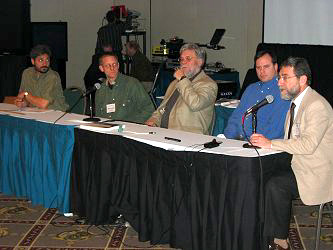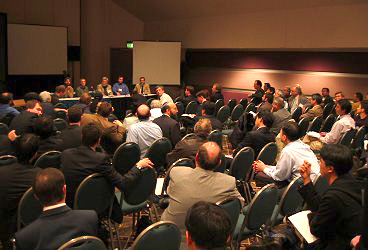 This year's discussion forum had the topic "The Future of Stereoscopic Imaging" and was a particularly lively event. Pictured at left are the panelists Mark Bolas, Jeff Fergason, Daniel Sandin and Dave Cook with the session chair Lenny Lipton. More information about the panel is available in the discussion forum summary.
Equipment
The ability to present high-quality large-screen stereoscopic images and video at the conference is an extremely important part of the conference. Many people and companies contributed hardware, software, and expertise to make this a truly impressive show. A particular thank you goes to Brad Nelson of Nelsonex, Spectrum Audiovisual, Chris Ward of LightSpeed Design Group, John Miller of Dep3D, Jason Goodman of 21 st Century 3D, Julien Flack of Dynamic Digital Depth, and Mike Weissman. Conference video equipment included Betacam SP player, DVD player, 3D demultiplexer, two QD line doublers, stereoscopic rear projection screen (see picture below) (all provided by Nelsonex), SVHS Player, two Sony VPL-FX50 projectors (Spectrum Audio Visual), 40-in. rear projection polarized stereoscopic TV (dep3D), DepthQ stereoscopic video playback software and computer (LightSpeed Design Group), dual industrial DVD players and DVD playback synchronizer (21st Century 3D), computer with field-sequential NTSC SVideo output (for playback of 2D to 3D converted video footage), DTI autostereoscopic display (DDD), and miniDV player (Mike Weissman). Pictured (left to right) are Jason Goodman, Brad Nelson, Chris Ward, and John Miller.
People

A panorama taken of the conference audience during one of the quieter sessions. Note the large stereoscopic polarised rear projection screen at the left of the picture. The careful observer will also notice the two projectors at far left (behind the screen).
| | |
| --- | --- |
| | Co-Chairs of the Stereoscopic Displays and Applications conference John Merrit (left) and Andrew Woods (right) with Mark Bolas, Chair of The Engineering Reality of Virtual Reality conference (center). |

All photographs © 2003 Andrew Woods.

---
[Home] [2003: Contents, Preface, Forum, Committee, Photos: Conference, Demonstrations, Dinner] [Committee]
[ 2022, 2021, 2020, 2019, 2018, 2017, 2016, 2015, 2014, 2013, 2012, 2011, 2010, 2009, 2008, 2007, 2006, 2005, 2004, 2003, 2002, 2001, 2000, 1999, 1998, 1997, 1996 ]
---

---
Maintained by: Andrew Woods
Revised: 25 May 2003.