2004 Proceedings





2004 Photos

















---
Photo Album of the
Stereoscopic Displays and Applications XV (2004) Conference
---
The Conference

This page provides snapshots of a few moments at the 2004 Stereoscopic Displays and Applications conference.
Keynote
This year's keynote was presented by Dave Cook from nVIDIA Corporation. Dave's presentation was titled "Stereoscopic Gaming: Technology and Applications". More information about his presentation is available in the conference proceedings introduction.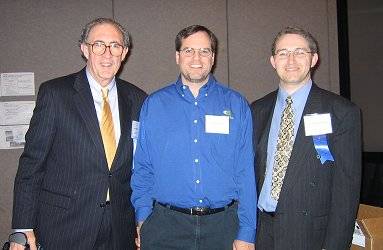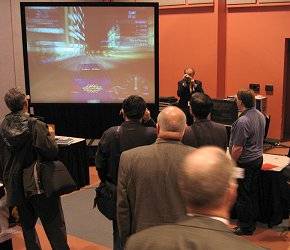 Pictured here are (left photograph: left to right) John Merritt, Dave Cook and Andrew Woods, and (right photograph) audience members come up close to experience the large screen stereoscopic gaming experience.


This panorama was taken during Dave Cook's presentation. Dave's presentation was richly illustrated with many stereoscopic examples. [Dave is the blur in front of the screen].

Discussion Forum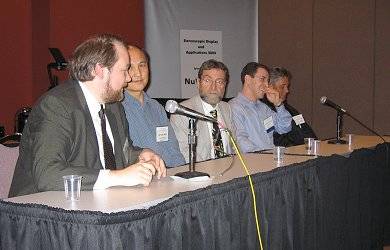 This year's discussion forum had the topic "3D & 4D Attractions: The New Stereoscopic Cinema". Pictured (from left) are the panelists Chris Ward, Samuel Zhou, Lenny Lipton, Jason Goodman, and Max Penner. More information about the panel is available in the discussion forum summary.
Equipment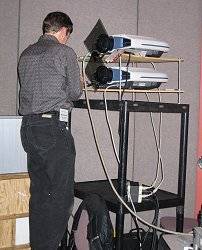 The ability to present high-quality large-screen stereoscopic images and video at the conference is an extremely important part of the conference. Many people and companies contributed hardware, software, and expertise to again make this a truly impressive show.
A particular thank you goes to Brad Nelson of Nelsonex, Spectrum Audiovisual, Chris Ward and Dan Lawrence of LightSpeed Design Group, John Miller of Dep3D, Jason Goodman of 21st Century 3D, and Yuji NOJIRI and Makoto OKUI from NHK Science and Technical Research Labs. Conference video equipment included Betacam SP player, DVD player, 3D demultiplexer, two QD line doublers, stereoscopic rear projection screen (all provided by Nelsonex), SVHS Player, two Sony VPL-FX50 projectors (Spectrum Audio Visual), DepthQ Stereoscopic Media Server (LightSpeed Design Group), dual industrial DVD players and DVD playback synchronizer (21st Century 3D), and 3D HDTV playback system (NHK Science and Technical Research Labs).
Pictured (left photo): Brad Nelson sets up the two video projectors, and (right photo) the mass of equipment setup behind the projection screen.
3D Screening Session
A 3D Screening Session was held on the Monday night of the conference. A full list of all the material shown at this session is listed in the 3D cinema page and the conference proceedings introduction.
People


A panorama taken during one of the paper presentation sessions the conference. Note the large stereoscopic polarised rear projection screen at the right of the picture.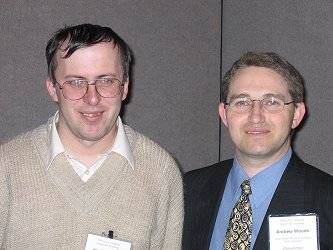 Pictured: (left photo) Neil Dodgson and Stephan Keith, and (right photo) Michael Husak and Andrew Woods.
Related Events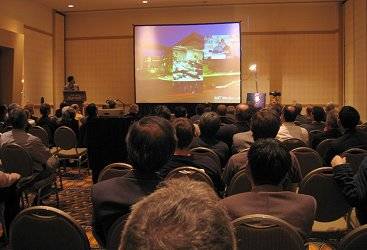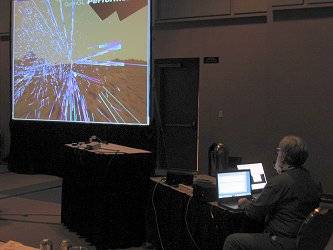 On Wednesday evening a special session was held in honour of the passing of Professor Stephen Benton (left photo) - a large hologram of Steve is visible at the bottom right of the projection screen. On Thursday the Engineering Reality of Virtual Reality conference hosted a special Virtual Reality Works session - pictured (at right) is Dan Sandin demonstrating a virtual reality world networked live with three other groups around the USA.
---
[Home] [2004: Program, Contents, Preface, Forum, Committee, Photos: Conference, Demonstrations, Dinner] [Committee]
[ 2022, 2021, 2020, 2019, 2018, 2017, 2016, 2015, 2014, 2013, 2012, 2011, 2010, 2009, 2008, 2007, 2006, 2005, 2004, 2003, 2002, 2001, 2000, 1999, 1998, 1997, 1996 ]
---

---
Maintained by: Andrew Woods
Revised: 5 June 2004.