Each year's Stereoscopic Displays and Applications conference is a perfect opportunity to see a vast collection of stereoscopic displays all in one session and one place. The 2010 conference was no different and there were lots of 3D on show. Here's a quick photo review of the SD&A demonstrations.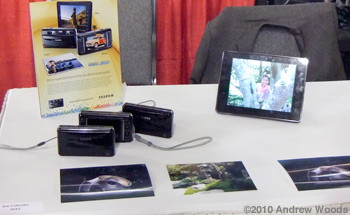 [1] Fujifilm USA (Jim Calverley) demonstrated the Fujifilm Finepix Real 3D products: the W1 digital 3D camera, the V1 3D photo frame viewer, and 3D prints.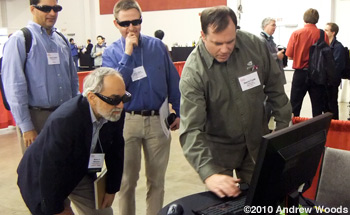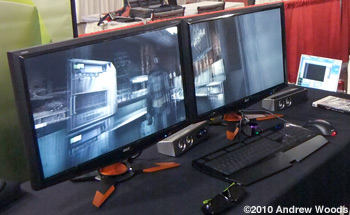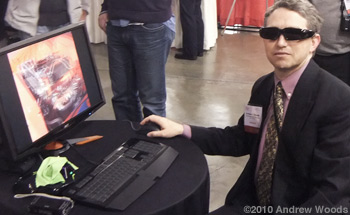 [2] NVIDIA (Dave Cook and Michael McSorley) demonstrated the NVIDIA 3D Vision active shutter glasses paired with four of the new Acer GD235HZ full-HD 24" 3D LCD monitors, including three setup as an ultra-widescreen 3D display. Content included 3D Blu-ray, 3D pictures from the Fuji 3D camera, and the latest PC games in 3D.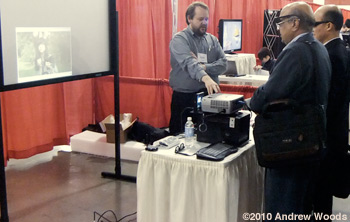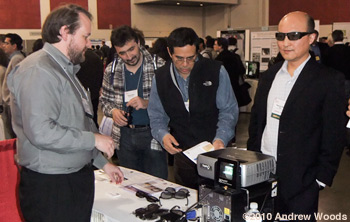 [3] Lightspeed Design (Chris Ward and Bob Mueller) demonstrated their new polarization modulator in operation with a DepthQ HD projector - illustrating new options for full-polarized HD 3D from a single projector.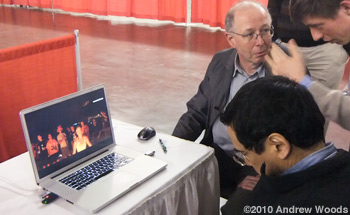 [4] SeeFront (Christoph Grossmann) debuted their new lens kit and software to convert a 2D laptop display into a head-tracked autostereoscopic display, and an autostereoscopic desktop monitor SF223.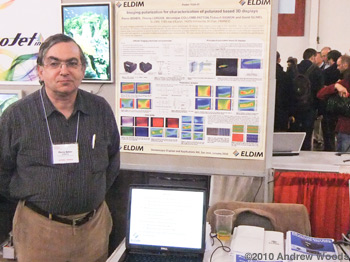 [5] ELDIM (Pierre Boher) provided literature on their system for performance characterization of autostereoscopic displays.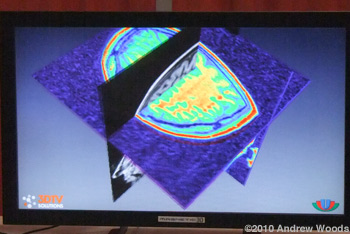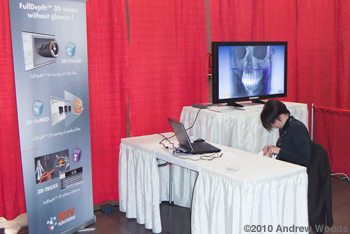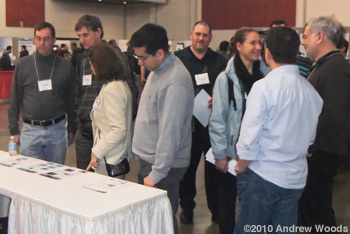 [6] 3DTV Solutions (Didier Debons) demonstrated a large autostereoscopic HDTV screen showing qualitative content.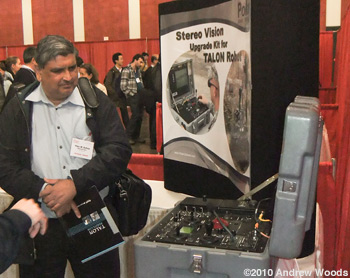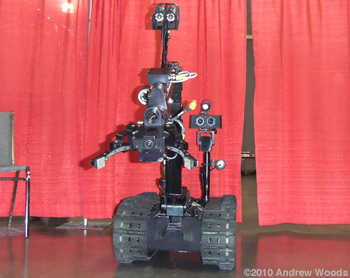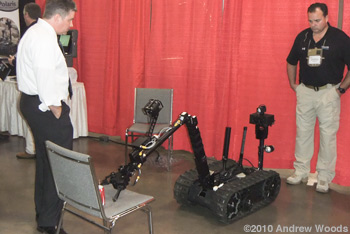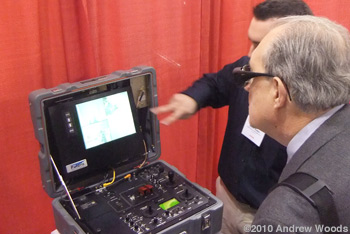 [7] Polaris Sensor Technologies (Richard Edmondson) demonstrated a flat panel polarized 3D display system with live and digital inputs coupled with a TALON fully operational bomb disposal robot.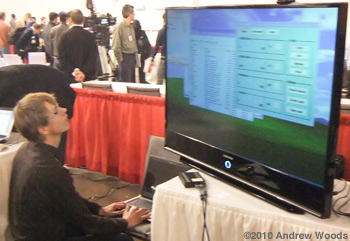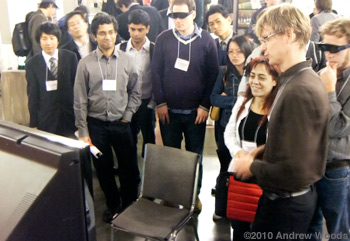 [8] Philips (Rene Klein Gunnewiek) demonstrated their automatic 2D to 3D conversion algorithm on a large screen 3D HDTV.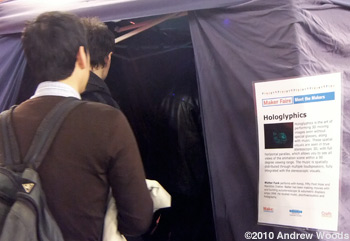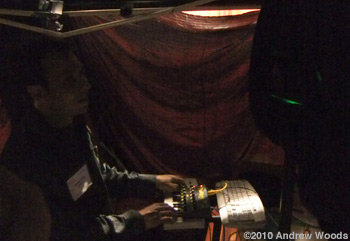 [9] Hologlyphics (Walter Funk) demonstrated autostereoscopic content generated in real-time, interacting with sound.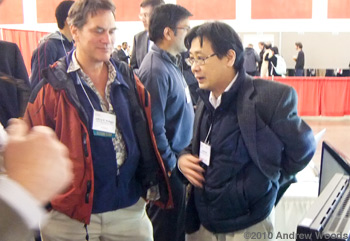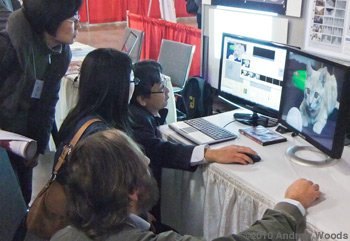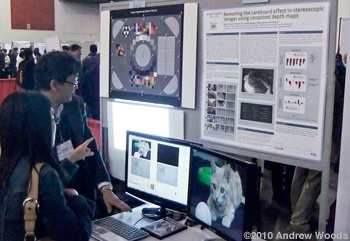 [10] The Communications Research Centre, Canada (James Tam), demonstrated a user-interface for modifying depth maps intended as a tool for creating special effects in 3D, getting rid of the cardboard-cutout effect, and for 2D to 3D conversion
(Sorry - no picture. Do you have one?)
[11] The National Research Council of Canada (Eric Paquet) demonstrated a system that can index and retrieve 3D protein structures according to their shape.
(Sorry - no picture. Do you have one?)
[12] The National Institute of Standards and Technology (Afzal Godil) demonstrated their 3D shape retrieval work, which is based on subspaces of view.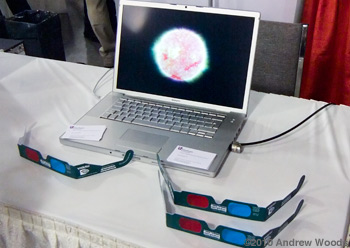 [13] Durham University (Nick Holliman) showed clips from the 3D movie "Cosmic Origins" and discussed stereoscopic production with delegates.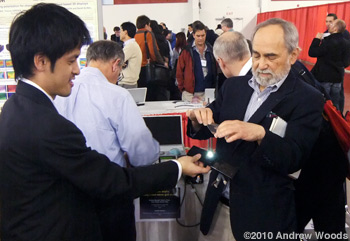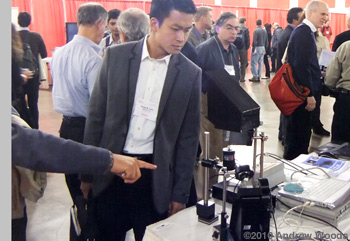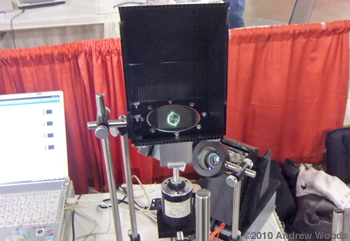 [14] Osaka City University (Daisuke Miyazaki) demonstrated a volumetric display system using a roof mirror grid array (RMGA) and a DLP projection engine. The RMGA consists of a two-dimensional array of dihedral corner reflectors and forms a real image at a plane-symmetric position.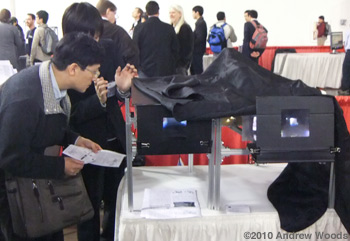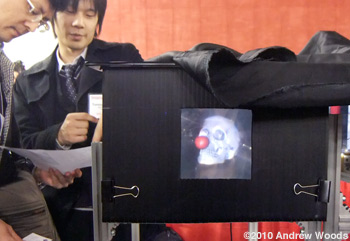 [15] The University of Tsukuba (Hideki Kakeya) demonstrated 3D display system combining multi-view and volumetric solutions, which realize natural 3D vision without convergence-accommodation conflict.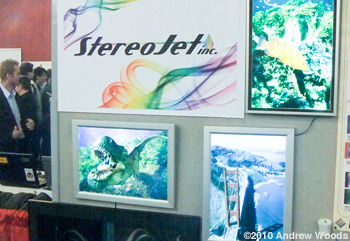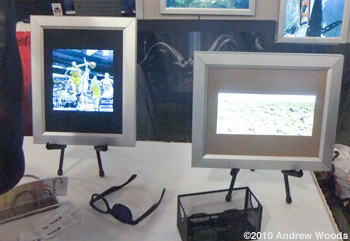 [16] StereoJet exhibited a selection of full color, high-resolution 3D prints and transparencies -- showing a recent update of the technology. StereoJet remains the only method available for printing of full-color 3D images which can be viewed with polarized 3D glasses.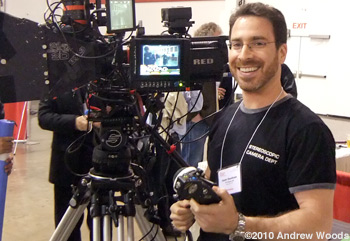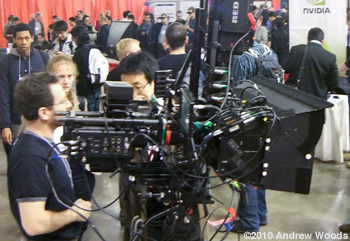 [17] 21st Century 3D (Jason Goodman) demonstrated a professional stereoscopic camera system using a pair of RED cameras mounted on a mirror-rig designed to overcome the polarization problems normally encountered with mirror-rigs.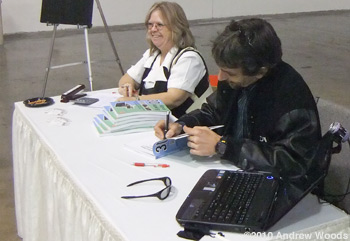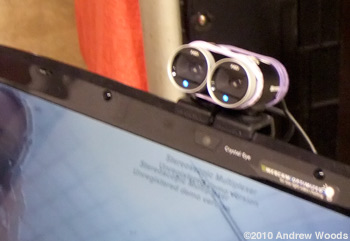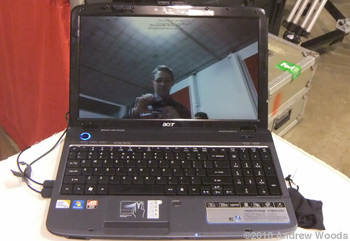 [18] Bernard Mendiburu was on hand to sign copies of his new book, 3D Movie Making: Stereoscopic Digital Cinema from Script to Screen. He also showed an Acer Aspire 5738DG 3D laptop setup with a pair of Microsoft Lifecam 720P webcams connected as a stereo-pair.
There were also several stereoscopic items at the Electronic Imaging Exhibition on the main concourse on Tuesday and Wednesday: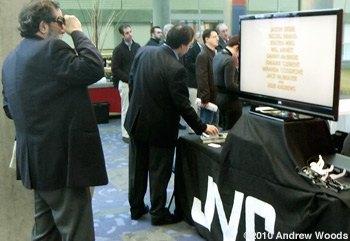 [19] JVC Professional demonstrated the JVC 46" MicroPol based 3D HDTV.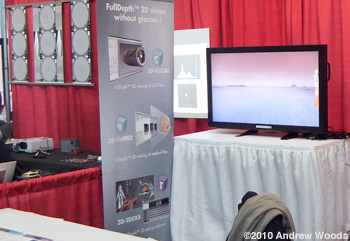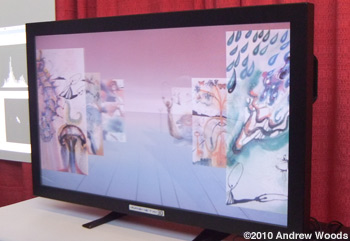 [20] 3DTV Solutions demonstrated a large screen autostereoscopic display.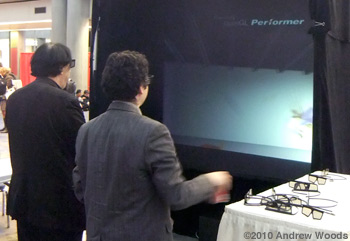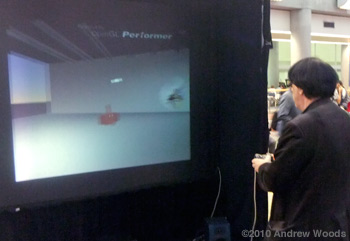 [21] The "Art in Virtual Reality" exhibit (curated by Ben Chang from the School of the Art Institute of Chicago) used a large rear-screen polarized stereoscopic projection system to showcase the virtual reality artworks of a selection of authors. Further details are available from www.bcchang.com/artvr2010/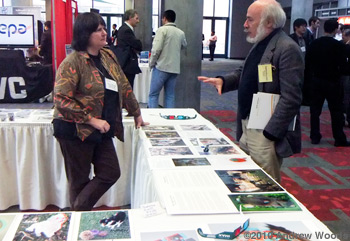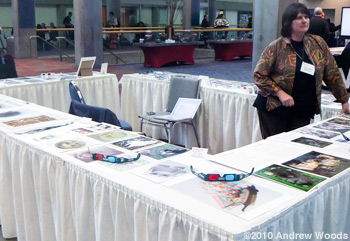 [22] Also in the exhibit area was the annual Phantogram Exhibit, organized by Terry Wilson from Terryfic3D.
All photographs © 2010 Andrew Woods.
All photographs were shot with a Fuji W1 3D camera - but are presented here only in 2D.
Higher resolution and 3D images available upon request.