---
The 2018 SD&A Demonstration Session
---
The SD&A Demonstration Session has run every year since 1990. The symposium-wide event is open to demonstrators from all of the Electronic Imaging conferences.
Demonstrations at the 2018 event relevant to SD&A topics included:
"Historical Stereoscopic Gaming", a hands-on display of stereoscopic electronic games and related ephemera (Ilicia Benoit and Eric Kurland - see Figure 4)

Use of a VR headset to assess weaknesses in human stereoscopic vision and also provide treatment exercises (Benjamin Backus, Vivid Vision)

UnityMol - a software to explore molecular structures with the Oculus Rift (Marc Baaden, Alexandre Maes, Xavier Martines, Stuttgart University)

CADwalk - life-size MR-AR-VR design experience video presentation (Gerhard Kimenkowski)

Exploration of molecular data with the Hololens (Michael Krone, see Figure 5)

Cardboard VR Exploration of Chlamydomonas r. 3D 360° as well as mobile sensor data visualization (Björn Sommer)

Mesoscopic rigid modeling of the extracellular matrix (Hua Wong, Reims University)
Molecular Dynamic Visualization (MDV) - stereoscopic visualization of molecular structures with Unity (Andrew Woods)

The VR experience "Beacon Virtua" was displayed in a Google Cardboard viewer and on a laptop display as an example of multi-platform VR capability (Andrew Woods)

Polar Screens presented an autostereoscopic display with head tracking that uses a directional backlight to support full-HD resolution to each eye. (Ted Judge and Jean-Etienne Gaudreau)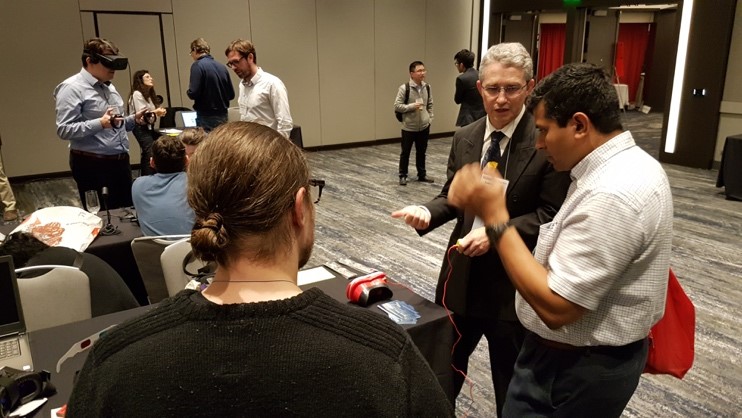 The demo session is always accompanied by a number of interesting discussions.
Moreover, this photo contains three Google VR cardboards / HMDs – find them all! 
In the mid-frame is Andrew Woods in discussion with Guarav Sharma.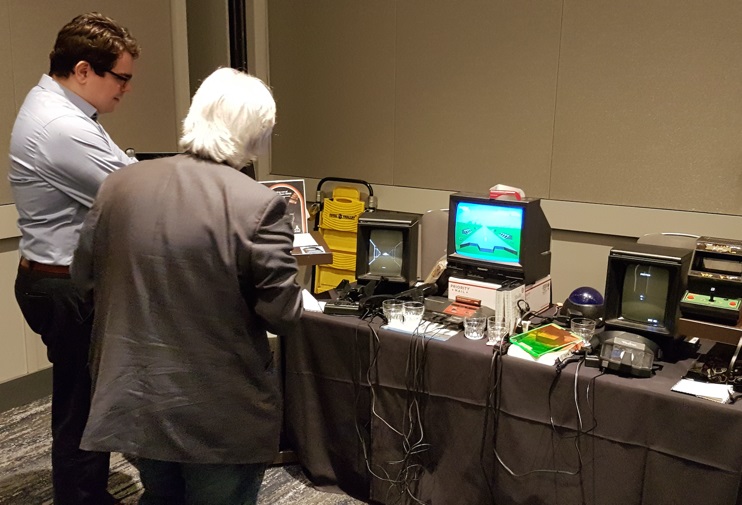 Discussions at the electronic 3D games stand showcased by Ilicia Benoit and Eric Kurland.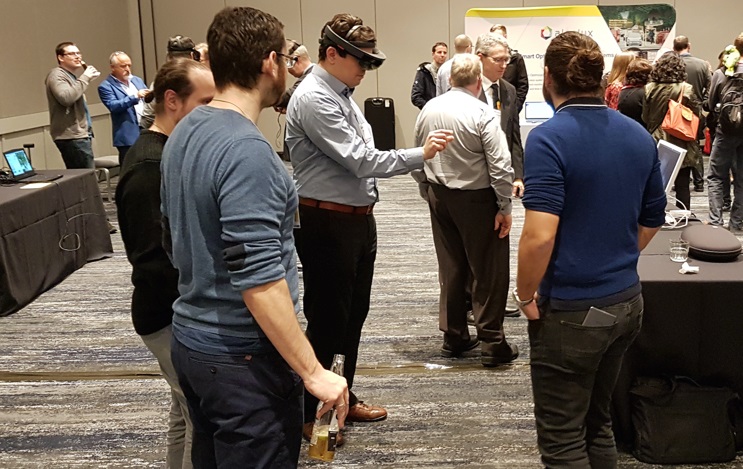 Michael Krone presenting molecular structures on the Hololens.


An album of photos from SD&A 2018 including many from the demonstration session is available on Flickr:
http://flic.kr/s/aHskwyFXbd