---
Photo Album of the
Stereoscopic Displays and Applications XVI (2005) Conference
---
The Conference

This page provides snapshots of a few moments at the 2005 Stereoscopic Displays and Applications conference.
This year's keynote was presented by Steve Schklair from Cobalt Entertainment. Steve's presentation was titled "Digital Technology and the Resurgence of Commercial Stereoscopic Entertainment ". More information about his presentation is available in the conference proceedings introduction.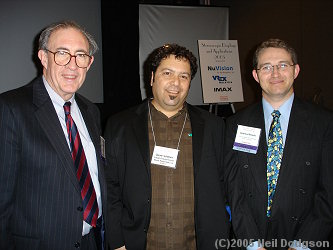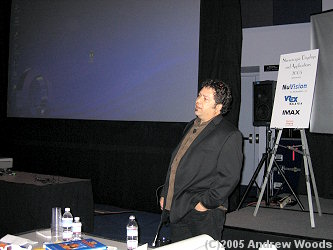 Pictured here are (left photograph: left to right) John Merritt, Steve Schlair and Andrew Woods, and (right photograph) Steve Schklair during his presentation. The large 14x8 foot silvered screen behind Steve was specially setup for use during his presentation and was used to show a selection of high-definition 3D pieces including "NFL Football 3D Test", "Toyota product shots", and "Superbowl to the Max trailer".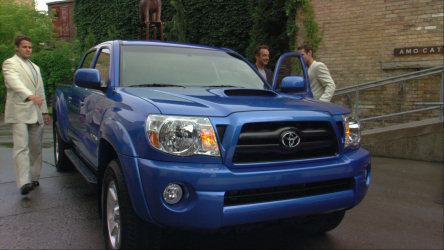 A still image from "Toyota product shots" shown in high-definition 3D during Steve's presentation.


This panorama was taken during Steve Schklair's presentation.
One of the plenary presentations for this year's symposium was given by Dr Justin Maki from the Jet Propulsion Laboratory. His presentation was titled "20 Cameras on Mars: The Mars Exploration Rover Imaging System". More information about his presentation is available in the conference proceedings introduction.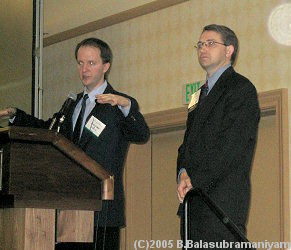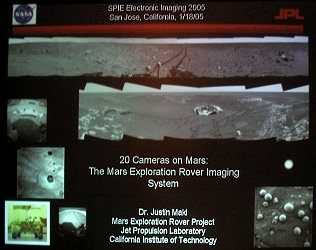 Pictured here are (left photograph: left to right) Justin Maki and Andrew Woods, and (right photograph) Justin's title slide.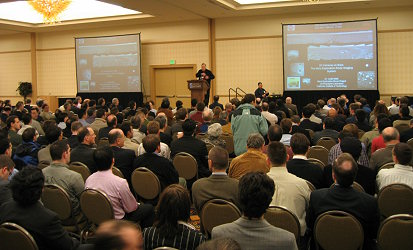 Shown here is Jim King (President of IS&T) welcoming the audience to the Electronic Imaging Symposium. This plenary talk was the first time that stereoscopic projection had been performed at an Electronic Imaging plenary. The two silver screens used for stereoscopic projection are shown either side of Jim. The system worked flawlessly and the audience were given polarised 3D glasses to view the 3D images of Mars which were included as part of Justin's presentation.


The audience from the second plenary.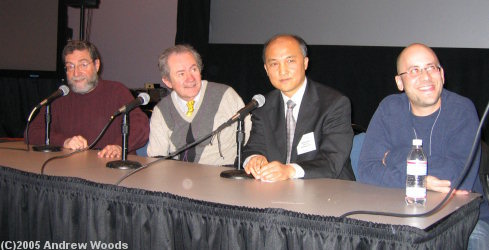 This year's discussion forum had the topic "Crimes Against 3D". Pictured (from left) are the panelists Lenny Lipton (chair), John Rupkalvis, Samuel Zhou, and Josh Greer. More information about the panel is available in the discussion forum page and the conference proceedings introduction.
The ability to present high-quality large-screen stereoscopic images and video at the conference is an extremely important part of the conference. Many people and companies contributed hardware, software, and expertise to again make this year's conference a truly impressive show.
A particular thank you goes to: Brad Nelson of Nelsonex (New York), Chris Ward, Michal Husak, and Dan Lawrence of LightSpeed Design Group (Bellevue, Washington), Steve Schklair and Bernie Butler-Smith of Cobalt Entertainment (North Hollywood, California), Edwards Technologies, Inc. (ETI) (El Segundo, California), Adrian Romero and the staff from Spectrum Audiovisual (Denver, Colorado), Jason Goodman of 21st Century 3D (New York, New York), and Tom Riederer from TreeD Films (Santa Barbara, California). Conference video equipment included DVD player, 3D demultiplexer, two QD line doublers, 8 x 6-foot stereoscopic rear projection screen, two Proxima Pro AV 9400 video projectors (all provided by Nelsonex), DepthQ Stereoscopic Media Server computer and software (LightSpeed Design Group), 14 x 8-foot stereoscopic front-silvered projection screen (Cobalt Entertainment), two Panasonic PT-D7600 projectors (ETI), SVHS Player and general AV equipment (Spectrum Audio Visual), dual industrial DVD players and DVD playback synchronizer (21st Century 3D), and another DepthQ playback system (TreeD Films).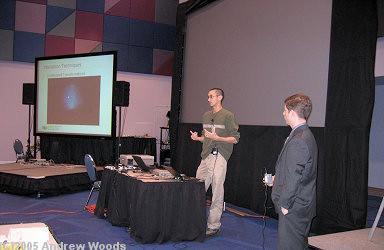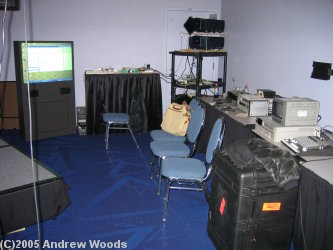 Pictured (left photo): The setup of the two stereoscopic projection screens (rear projection screen on left and silvered screen on right) and (right photo) the mass of equipment setup behind the scenes.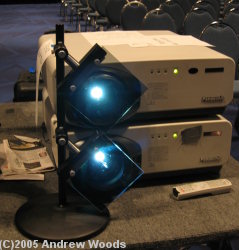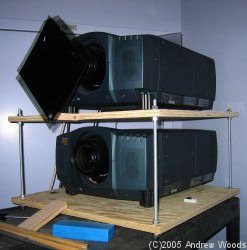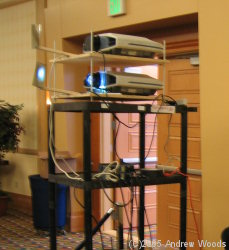 Several stereoscopic projection systems were used during the SD&A conference and EI symposium - (left) two Panasonic PT-D7600 projectors (1280x1024 resolution) (used on Wednesday for the keynote presentation), (middle) two Proxima Pro AV 9400 projectors (1280x1024 resolution) (used for the rear-projection stereoscopic screen throughout the SD&A conference), and (right) another four Sony FX51 projectors (two stereoscopic pairs) (1024x768 resolution) were used for stereoscopic projection during the Mars 3D plenary presentation.
A 3D Screening Session was held on the Monday night of the conference. A full list of all the material shown at this session is listed on the 3D cinema page and in the conference proceedings introduction.


Panorama of the audience during the screening session - FULL HOUSE!.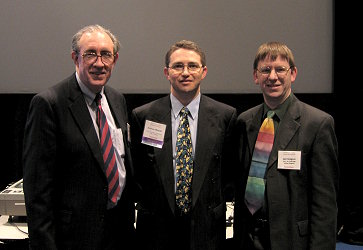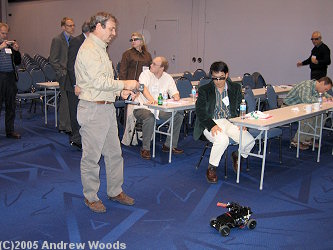 Pictured: (left photo - left to right) conference chairs John Merritt and Andrew Woods and conference committee member Neil Dodgson, and (right photo) following the stereoscopic short course on Sunday, John Toeppen showed a remote controlled buggy fitted with wireless stereoscopic video cameras.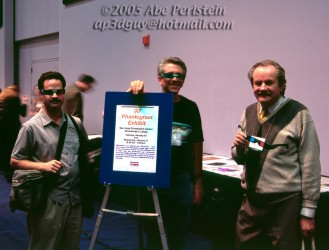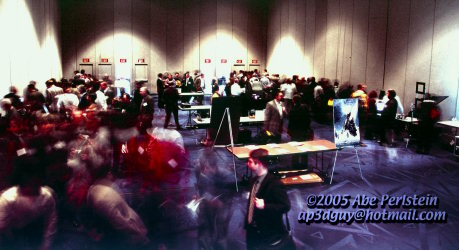 Pictured: (left photo - left to right) Lawrence Kaufman, Abe Perlstein and John Rupkalvis at the Phantogram exhibit, and (right photo) the audience at the demonstration session. These two photos are available in JPS (Stereoscopic JPEG format) - click on the two photos to access the JPS files.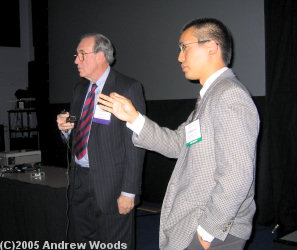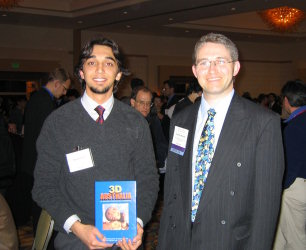 (left photo) The prize for "the best use of stereoscopic presentation tools during the conference technical sessions" was won by Dr. Ezekiel Tan from Royal Newcastle Hospital (Australia) for his presentation "Stereoscopy in orthopaedics."
(right photo) A runner-up prize was awarded to Serdar Ince from Boston University for his presentation "Recovery of a missing color component in stereo images (or helping NASA find little green Martians)."
Both prizes were provided courtesy of Ken Duncan Panographs (Australia) <www.kenduncan.com>.
On Tuesday and Wednesday was the Phantogram Exhibit which collected together the works of a wide selection of artists and authors to form the largest ever collection of phantograms in one exhibit. About 100 phantograms were on display.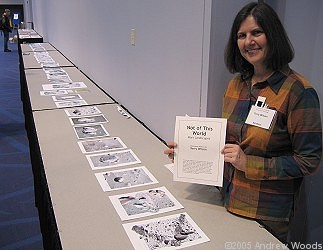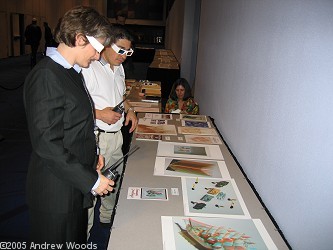 (left) Terry Wilson (who was also the primary organiser of the exhibit) with her Mars phantograms. (right) Jenny O'Brien and Adrian Romero view some of the phantograms.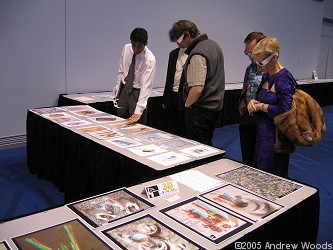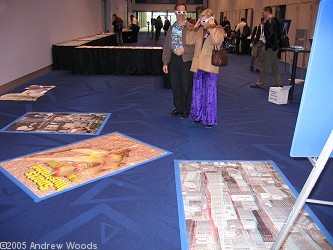 More of the phantograms on display: (left) table top mounted phantograms, and (right) floor mounted phantograms.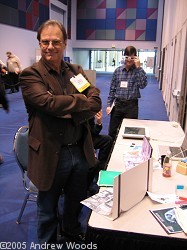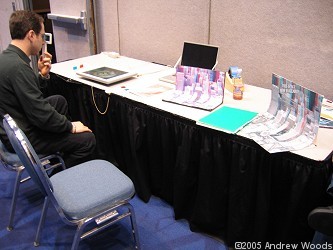 (left) Steve Aubrey with one of his sweep phantograms, and (right) Jason Goodman views an animated phantogram displayed on an LCD panel.
The Electronic Imaging Exhibit also hosted some stereoscopic 3D displays.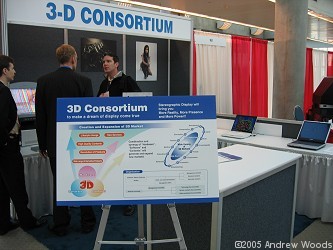 The 3D consortium hosted a booth which showcased the stereoscopic displays of a range of organisations.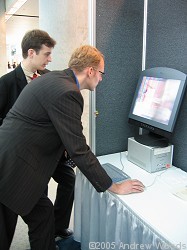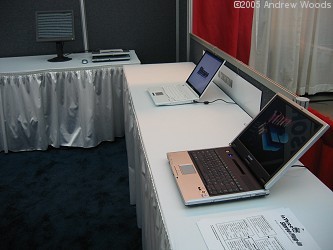 (left) SeeReal Technologies showed a "Cn" 20" autostereoscopic display, and (right) Sharp corporation showed two autostereoscopic laptops and an autostereoscopic desktop monitor.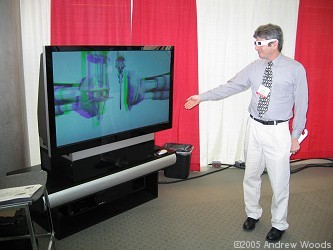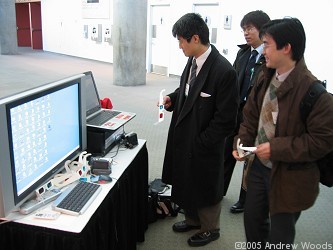 For3D showed a selection of displays with various 3D content.