2006 Proceedings




2006 Photos







Other Years





















---
Photo Album of the
Stereoscopic Displays and Applications XVII (2006) Conference
---
The Demonstrations

This year the following items were on display at the 2006 demonstration session: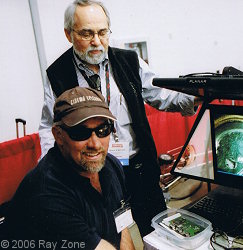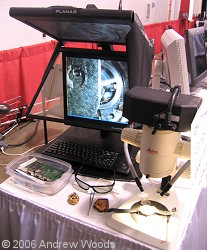 [1a,1b] Mike Weissman and Tom Riederer from Micro Vision Systems demonstrated "TrueVision", a real-time, HD (1280x1024x2 @ 30p), 3D video camera system for stereomicroscopes. Live micro-stereoscopic video was displayed on a Planar stereoscopic display. (Photo 1a is also available as a JPS (Stereoscopic JPEG) - shot sequentially).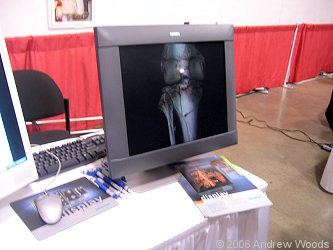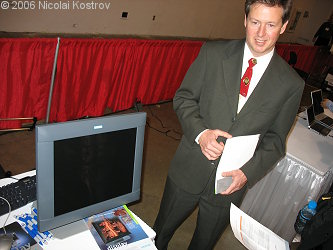 [2a,2b] Siemens Display Technologies presented the SXD3 1899 1MP 18.1" multiview autostereoscopic color flat panel display.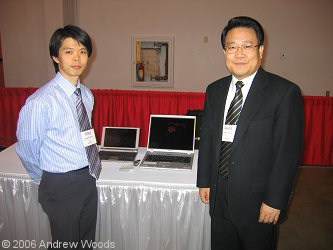 [3] Professor Eun-Soo KIM provided information about the 3DRC (3D Display Research Center) at Kwangwoon University, South Korea.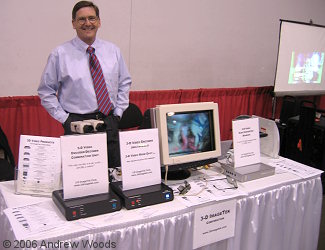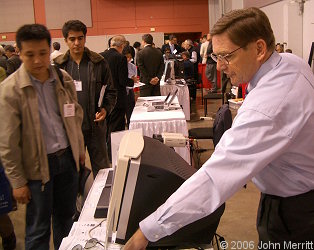 [4a,4b] Craig Crawford from 3-D ImageTek Corp demonstrated a range of their stereoscopic video products including a "genlock-free" 3D multiplexer, 3D demultiplexer, and 3D scan doubler.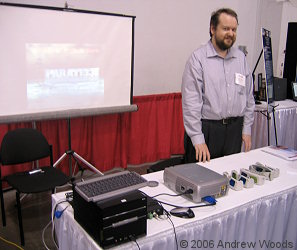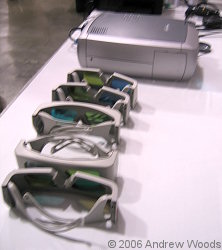 [5a,5b] Chris Ward from Lightspeed Design Group demonstrated the Infocus DepthQ stereoscopic video projector showing stereoscopic video played using the DepthQ stereoscopic media server software.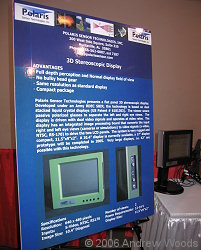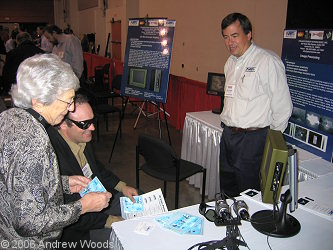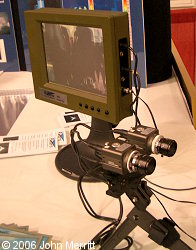 [6a,6b,6c] David Chenault from Polaris Sensor Technologies demonstrated their 10.4", full frame rate, full spatial resolution, passively polarized flat-panel stereoscopic LCD monitor.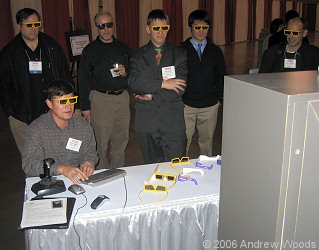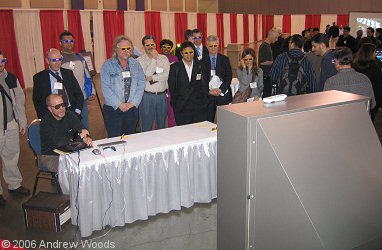 [7a,7b] John Miller from Dep3D demonstrated a variety of stereoscopic PC games and stereoscopic video on their 40" dual rear-projection circularly polarized stereoscopic display.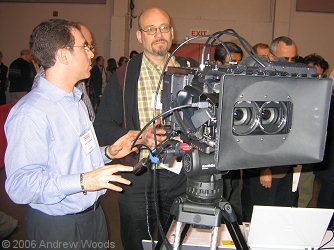 [8a,8b] Jason Goodman from 21st Century 3D (New York) demonstrated the "3DVX3" high-definition stereoscopic video camera and showed 3D video on a Sharp AL3D laptop. (Photo 8b is also available as a JPS (Stereoscopic JPEG) - shot sequentially).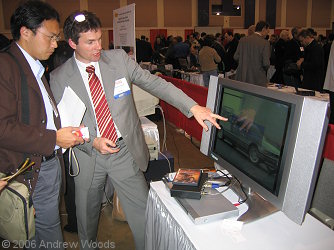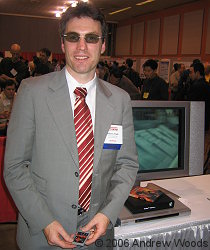 [9a,9b] Julien Flack from Dynamic Digital Depth demonstrated the TriDef Vision+ for automatic conversion of 2D video to 3D, displayed on a 30" 3D LCD display from Arisawa (Japan) and viewed using circularly polarized 3D glasses.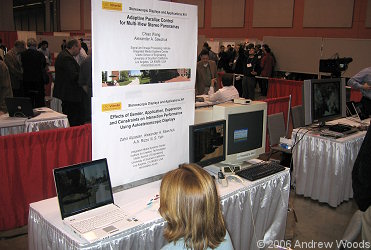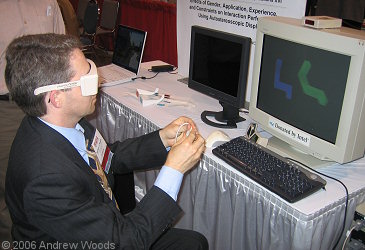 [10a,10b] Researchers from the University of Southern California demonstrated their stereoscopic panorama software on a Sharp AL3D laptop and stereoscopic interaction performance test software running on two 3D displays, one autostereoscopic and the other a CRT using LCS 3D glasses.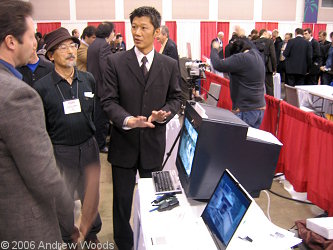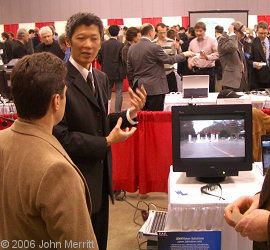 [11a,11b] Peter Sun from Sun Advanced Engineering (Japan) and Shojiro Nagata from InterVision Institute (Japan) demonstrated the software "HD-Renderer" for stereoscopic video playback.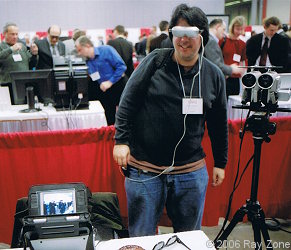 [12a,12b] Eric Kurland demonstrated his dual-camcorder stereoscopic camera system and polarized 3D viewing system based on two LCD monitors viewed through a half-mirror. (Photo 12a is also available as a JPS (Stereoscopic JPEG) - shot sequentially).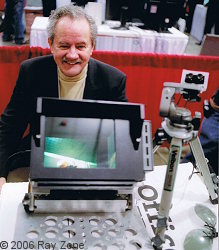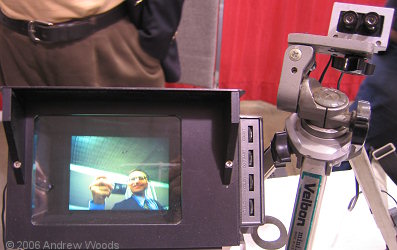 [13a,13b] John Rupkalvis demonstrated a miniature stereoscopic camera and polarized 3D viewer based on two LCD monitors viewed through a half-mirror. (Photo 13a is also available as a JPS (Stereoscopic JPEG) - shot sequentially).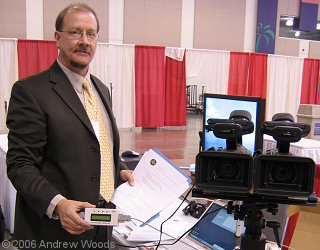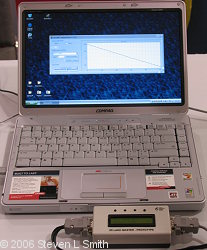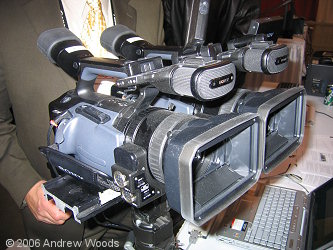 [14a,14b,14c] Steven Smith from IN3D demonstrated the 3D LANC Master developed by Damir Vrancic (J. Stefan Institute, Slovenia) connected to a pair of Sony HDV cameras. The 3D LANC Master can synchronize two Sony camcorders (selected models only) via the LANC connector.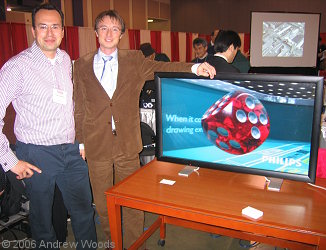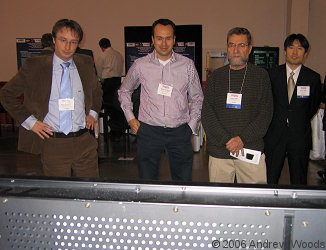 [15a,15b] Robert-Paul Berretty and Guido Volleberg from Philips (Netherlands) demonstrated their 42" nine-view autostereoscopic LCD flat-panel display.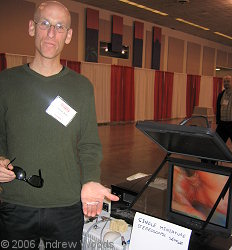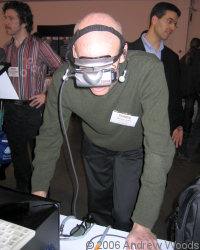 [16a,16b] Avi Yaron and Shachar Arieli from Visionsense demonstrated a single miniature stereoscopic sensor suitable for use in endoscopes and other applications. Sample 3D video from the camera was shown on a Planar stereoscopic display and an eMagin stereoscopic HMD.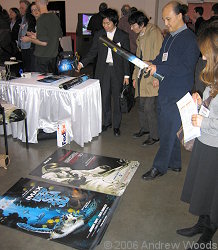 [17] IMAX corporation (Canada) provided some technical literature about the IMAX 3D process and gave out movie posters for two new IMAX 3D movies: "Magnificent Desolation: Walking on the Moon 3D" and "Deep Sea 3D."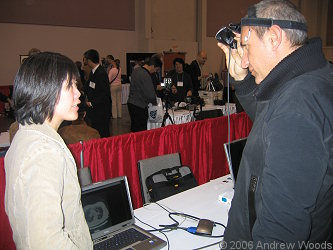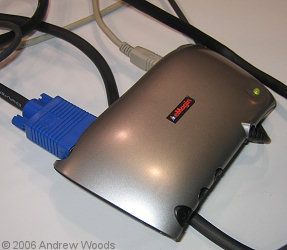 [18a,18b] Xiao Hui Wang from University of Pittsburgh displayed their stereoscopic display workstation for viewing radiographic images in real-time. Stereoscopic images were viewed on an eMagin stereoscopic HMD.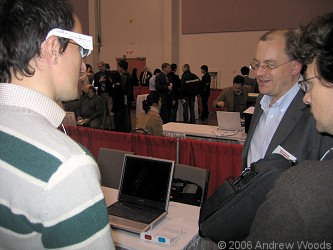 [19] Nick Holliman from University of Durham (UK) showed the 3D movie "Cosmic Cookery" on a Sharp RD3D autostereoscopic laptop.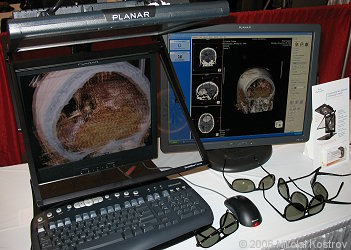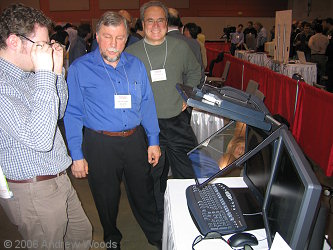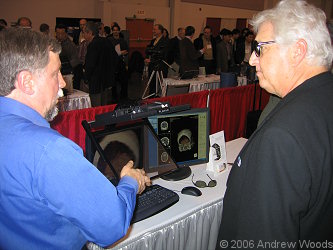 [20a,20b,20c] Charles McLaughlin of Fergason Patent Properties and Patrick Green from Planar Systems demonstrated a Planar StereoMirrorTM (SM) stereoscopic display. 3D content shown included stereoscopic medical imaging images.
[21] Ingo Relke from Newsight (Germany) demonstrated a Newsight multiview autostereoscopic display.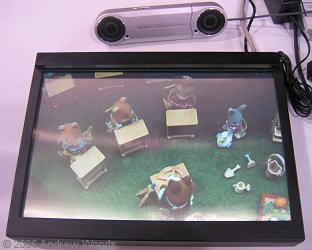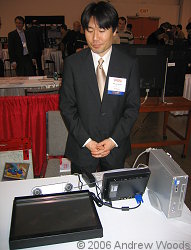 [22a,22b] Tatsuo Saishu from Toshiba Corporation (Japan) demonstrated a prototype of their 15.4" flatbed-type autostereoscopic display system.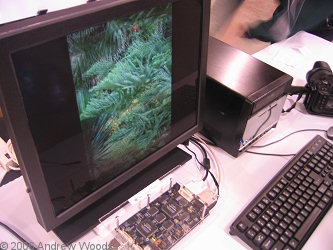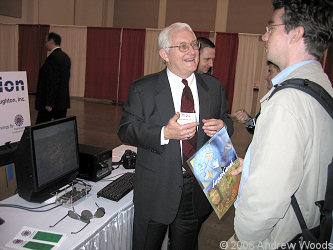 [23a,23b] Boyd MacNaughton from MacNaughton, Inc. and Jean-Étienne Gaudreau from PolarScreens (Canada) demonstrated a prototype of their Photonics 19" full spatial resolution passively polarized stereoscopic display.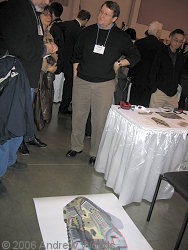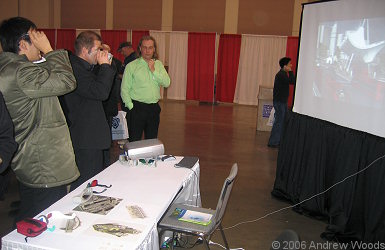 [24a,24b] Kevin Gilson from Parsons Brinkerhoff showed a 3D promotional video using a DepthQ projector and a series of 3D phantograms.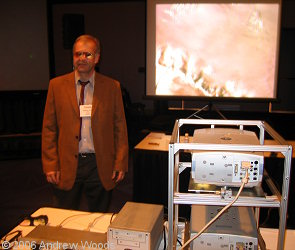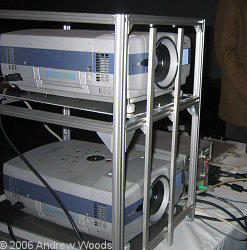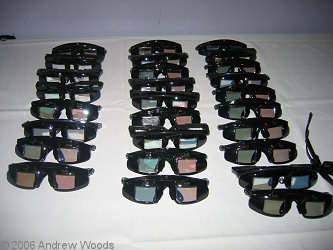 [25a,25b,25c] Helmut Jorke from Infitec (Germany) demonstrated an Infitec stereoscopic projection system.


All photographs © 2006 Andrew Woods, John Merritt, Steven L Smith, Ray Zone, or Nikolai Kostrov as noted.
Higher resolution images available upon request.